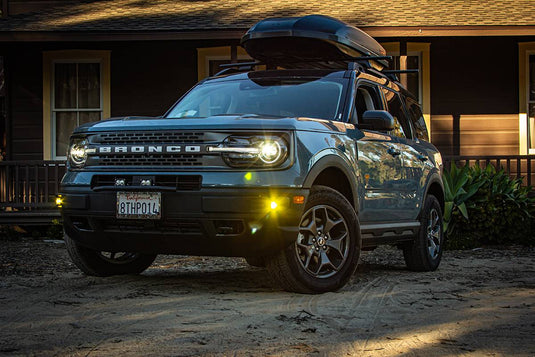 The clear has a signature color temperature of 5000K.
Baja Designs Features:
Satisfactions Guarantee – 30 Day Money Back
Guarantee
Limited Lifetime Warranty – Complete Purchase Protection
uService® – Replaceable Lenses And Optics
ClearView® – All The Light, Right Where You Need It.
MoistureBlock™ – Waterproof, Rain Proof, Submersible
CopperDrive® – Only LED Driven At 100%
5000K Daylight – Less Driver Fatigue, Natural Color

 

 

 

Specifications (Per Light):


Lumens: 2,375 Utilizing 1 LED
Wattage/Amps: 20W / 1.45A
Dimensions: 2.1" x 2.1" x 2.1"
Safe Voltage Range: 9-28V
Weight: 0.4 lbs
LED Life Expectancy: 49,930 Hours
Front Lens: Hard Coated Polycarbonate
Housing: Hard Anodized & Powder Coated Cast Aluminum
Bezel: Billet Machined Aluminum
Hardware & Bracket Material: Stainless Steel
Exceeds MIL-STD810G (Mil-Spec Testing)
Built-In Overvoltage Protection
IP69K (Waterproof up to 9ft & Pressure Washable)
IK10 Compliant (Mechanical Impact Testing)
Application: 
Includes:
x2 S1 Wide Cornering LED Lights
x2 Plug & Play Adapters
Bronco Fog Light Mounting Brackets (PS/DS)
Product Details
The clear has a signature color temperature of 5000K.
Baja Designs Features:
Satisfactions Guarantee – 30 Day Money Back
Guarantee
Limited Lifetime Warranty – Complete Purchase Protection
uService® – Replaceable Lenses And Optics
ClearView® – All The Light, Right Where You Need It.
MoistureBlock™ – Waterproof, Rain Proof, Submersible
CopperDrive® – Only LED Driven At 100%
5000K Daylight – Less Driver Fatigue, Natural Color

 

 

 

Specifications (Per Light):


Lumens: 2,375 Utilizing 1 LED
Wattage/Amps: 20W / 1.45A
Dimensions: 2.1" x 2.1" x 2.1"
Safe Voltage Range: 9-28V
Weight: 0.4 lbs
LED Life Expectancy: 49,930 Hours
Front Lens: Hard Coated Polycarbonate
Housing: Hard Anodized & Powder Coated Cast Aluminum
Bezel: Billet Machined Aluminum
Hardware & Bracket Material: Stainless Steel
Exceeds MIL-STD810G (Mil-Spec Testing)
Built-In Overvoltage Protection
IP69K (Waterproof up to 9ft & Pressure Washable)
IK10 Compliant (Mechanical Impact Testing)
Application: 
Includes:
x2 S1 Wide Cornering LED Lights
x2 Plug & Play Adapters
Bronco Fog Light Mounting Brackets (PS/DS)